Ghost of The Deep Is a Killer in the Horror Mansion.
Appearance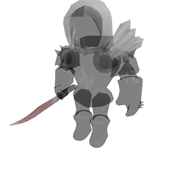 He Wears Ice Armor, Along WIth a Dominus Empyreus. He Holds a Bloody Knife That is Visible, However, His Whole Body is Transparent.
Behavior
He is Extremely Fast and Damage Is High. The Audio Are Very High and Plays Creepy Noises and People Screaming in the Background.
Community content is available under
CC-BY-SA
unless otherwise noted.